This page will be updated regularly with news, notices and announcements, related to the Kitimat Airpark. We will endeavor to keep everyone up to date, with upcoming news and events. With the upcoming construction and field work, we will be advising the membership of the timelines and field availability, as well as NOTAM's and safety notices. To have items posted, contact the site admin, or the Airpark Executive. Site Administrator's email is lynxlmc@hotmail.com.
Notices...
Please be aware that logging and tree removal, is ongoing at the north end of the field. It is hoped that debris clearing will be completed, before construction work on the field begins. Contact the Executive, to enquire about acquiring firewood.
See area circled in red, for downed timber.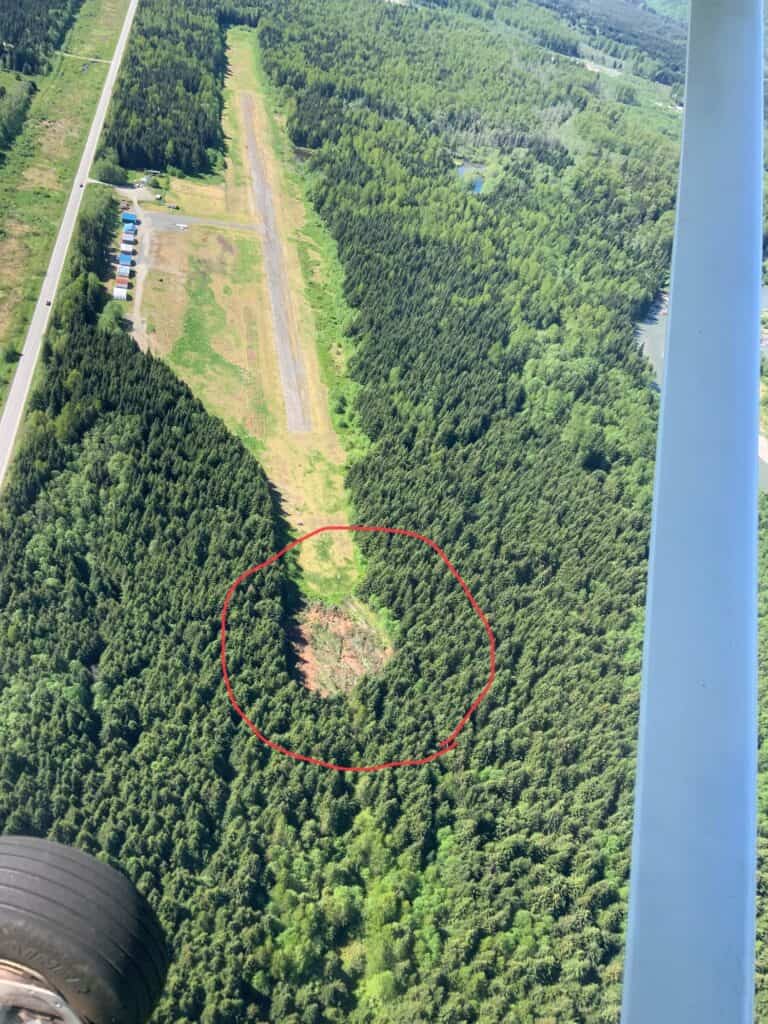 Safety Issues...
Change to Runway Numerical Headings....
Due to the annual change of the Magnetic North Pole position, our Runway Heading Numbers are being updated from 35/17 to 36/18. This information was updated from our line survey report. Transport Canada is aware of this and the required updates to charts, the CFS, other navigational texts and applicable users is being made.
Parking Caution....
Please be aware of the parking requirements for aircraft. Helicopters often use the area adjacent to the clubhouse, to load and unload as well as sling cargo.
Announcements...
As mentioned elsewhere on this site, the paving of the airpark runway is completed, and line painting, is now finished as well. The runway is operational.
Annual General Meeting
We have rescheduled our Annual General Meeting, to the evening of March 1, 2023, at 7:00 pm. Our Secretary has sent out an email to all members along with an agenda. We'd like to see as many members come out as possible for this important event.
Weather Advisory for Local Weather now Available Online
A "local" Weather service is now available, online for the Airpark. This site should be used "along with" the Terrace FSS weather and the required Nav Canada weather briefing site, or phone access number, to give pilots the important information they need, to plan and conduct flights, to and from the Airpark. This "local weather site", uses the BC forestry weather station information that is located, at the clubhouse. For all pilots planning for local or flights to and from other destinations, it is one more tool for the tool box of information needed for safe flights.
The web address is: www.bbc.com/weather/5993072